Kitchen Remodeling Services in Buffalo, NY
Kitchens provide more than just the essentials you need to prepare a meal - kitchens are the heart of a home. They can create an inviting space where you can eat and gather with friends and loved ones.
Whether you're looking to create the kitchen of your dreams from scratch with a full redesign or you're just in need of a cosmetic update, Braendel Painting and Services is one of the best kitchen contractors in Buffalo, NY. We offer all the services needed to revamp your kitchen, from cabinetry and flooring, to countertops and backsplashes. You're sure to have the guidance of the experts at Braendel to help make your kitchen come to life again.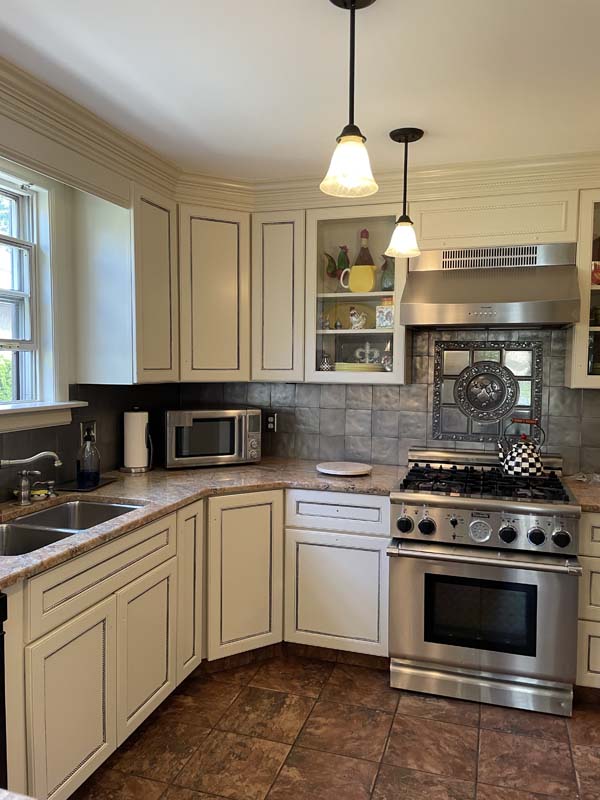 Custom Kitchen Redesign Services:
Kitchen Cabinetry
Cabinets can truly bring your kitchen together. At Braendel, we can design and remodel existing kitchen layouts with cabinets that will seamlessly fit your desired style. We can install completely new cabinets for you, or save you money by simply refinishing the existing ones. If you want to add functionality to your space, we offer custom-built kitchen islands to expand your storage. New recessed lighting, hardware, and other kitchen accessories can also add new flair to the heart of your home.
Kitchen Flooring
If you think about it, your kitchen floors are used even more than your appliances. That means you need something that will stand the test of time. Tile, stone, wood, and laminate flooring are all viable options for your kitchen remodel. At Braendel, not only will we install your new flooring, we'll help you decide which product, color and style work best for you before removing your old flooring.
Kitchen Countertops and Backsplashes
Braendel Painting and Services is one of few contractors in the area to offer the necessary countertop preparation work required before you are eligible for a countertop laser measurement. These services include the removal of your existing countertop/sink (requiring the removal of faucet/plumbing) and level your lower cabinetry. After installation, we return the next day to re-hook your sink and plumbing. During a consultation, allow us to help you explore all the options for your new countertops, such as granite, marble, quartz, solid surface, butcher block and more. Once you're settled on your countertops, we assist in picking a backsplash that fits both the aesthetic of the home and compliments the new counter.
Frequently Asked Questions
Do I need a contractor to remodel my kitchen?
How long does it take to complete a kitchen remodeling project?
What is the most expensive part of a kitchen renovation?
How do I design my kitchen remodel?
What is the average cost of a kitchen remodel?

Braendel did an excellent job with our interior painting, installation of recessed ceiling lights and ceiling fan. The whole team was very professional. From start to finish they paid attention to detail. Will definitely contact again for all home improvements.
JT W
I have been dealing with Jeff from Braendel's for 3 years now. They painted my historic 1851 home deep in the heart of Allentown, New York. They were the best quote. They did the job clean without us even being bothered of their presence. I had a few small spots 2 years later that were peeling and Jeff had his crew come out and do touchups with no questions asked.

I know that this stuff is expected when you hire someone, but this is not always the case. I give them 2 thumbs up and I am very picky, having been in the customer service industry my whole life. I hope this helps in this emotional decision.
Brando Snyder
We hired Braendel Painting & Services for popcorn removal, ceiling repair / finishing and painting in our new home - We couldn't be happier with the results! Thank you Braendel! We would absolutely call them for future services!
Andrea Cronin
Jeff and Dan were easy to work with and the only contractor that understand my budget constraints and worked with me. They completed several projects for me in 2019. I wish I found them first! I initially contacted Braendel for interior & exterior painting, then expanded to several projects. All the workers were pleasant and helpful. Of the 10 + contractors I've hired for extensive work, he & 1 other are the only ones that started and finished when they said they would. Also, on time each day. Note - The only issue is the pricing for painting was higher than anyone else but would not deter me hiring.
Margaret Moriarity
I just have to tell you all at Braendel Painting & Services that I cannot believe my house could look so good. I just had the best compliment from people working on my furnace that my house looks beautiful! The painting over the brick is exactly what I needed. Jose, Hassan and Alex were a pleasure to work with. The heat was unbearable and they were here early in the am every day. You guys are amazing. Thank you to all! Job well done!
Deb
Start Your Project Today!