Decks, Pergolas, and Porticos
If you want the outdoor living space of your dreams, then you need an honest, skilled & passionate installation team. With Braendel, you find all three and much, much more. From the start where we draw up your custom deck, to the finish when we stain the final product and review our handiwork you'll get the best we have to offer.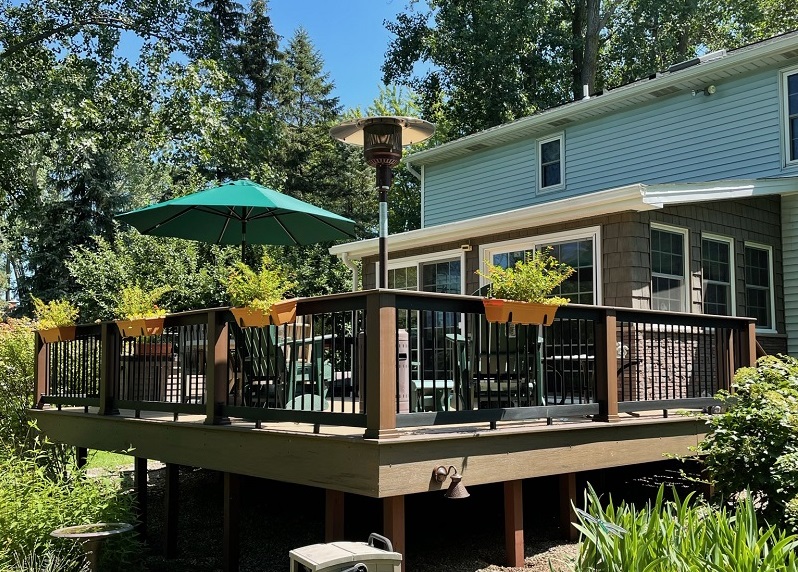 Expand Your Outdoor Living Space
The weather in Buffalo doesn't always accommodate lounging on the deck, but boy are the summers worth it! Whether you're looking to build a deck at a lake house, a small patio to grill on, or a portico to welcome visitors into your home, our team is equipped to handle the process from start to finish. Step one is giving us a call today to schedule your free estimate. We'll meet in-person to discuss your vision and let you know what it'll take to get there.
A deck is an extension of your home and in the warmer months may be your most valuable piece of real estate. It doesn't matter if you like reading in the peace and quiet, grilling, or running around because you're a dog or kid, a new deck is the way to go.
Worried about getting a little bit too much sun? Then, how about a covered porch/patio or pergola? Let us know what you're looking for and our carpenters will go to work to install your new living space.

We recently had our great room and entry painted and hardwood flooring installed by Braendel. All the personnel were professional, friendly, and hard working. They were courteous and accommodating of our needs and requests. The workmanship was excellent and the crews did a thorough clean up. We would definitely hire them again and recommend the company to friends and family.
Janet McLain
Quick work and reasonable
Deb Delaney
We bought our home 18 years ago and I can honestly say that it has never looked better! We have a Tudor style home with cedar siding and stucco. They were very thorough. Our home was a few years over due for a new paint job and they made sure it received the extra care it needed. The people were so responsive from start to finish. The crew was friendly & professional. They finished in the time that they said it would take and everything was completely cleaned up when they left. I am just thrilled with the outcome.
Elaine James
Painted the house and garage! They did an excellent job. On time and cleaned up! Would recommend!
Jacqueline Blackley
Jeff and Dan were easy to work with and the only contractor that understand my budget constraints and worked with me. They completed several projects for me in 2019. I wish I found them first! I initially contacted Braendel for interior & exterior painting, then expanded to several projects. All the workers were pleasant and helpful. Of the 10 + contractors I've hired for extensive work, he & 1 other are the only ones that started and finished when they said they would. Also, on time each day. Note - The only issue is the pricing for painting was higher than anyone else but would not deter me hiring.
Margaret Moriarity
Start Your Project Today!