Decks, Pergolas, and Porticos
If you want the outdoor living space of your dreams, then you need an honest, skilled & passionate installation team. With Braendel, you find all three and much, much more. From the start where we draw up your custom deck, to the finish when we stain the final product and review our handiwork you'll get the best we have to offer.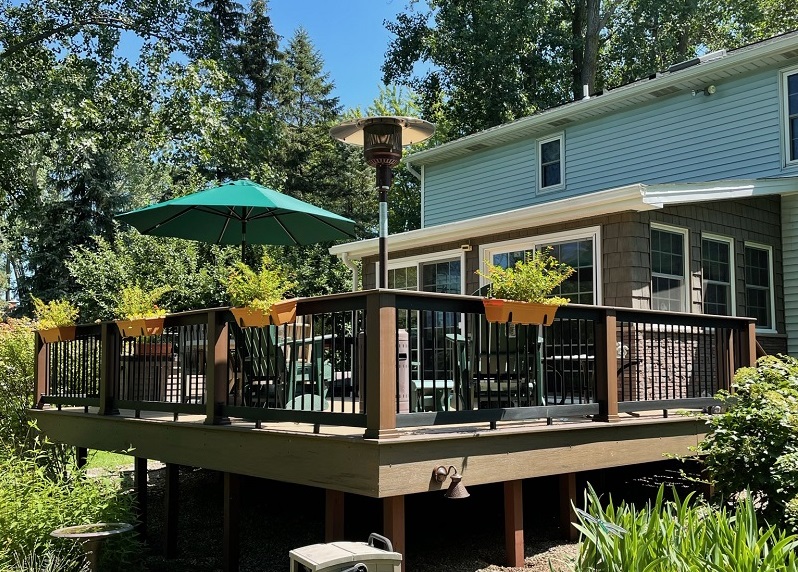 Expand Your Outdoor Living Space
The weather in Buffalo doesn't always accommodate lounging on the deck, but boy are the summers worth it! Whether you're looking to build a deck at a lake house, a small patio to grill on, or a portico to welcome visitors into your home, our team is equipped to handle the process from start to finish. Step one is giving us a call today to schedule your free estimate. We'll meet in-person to discuss your vision and let you know what it'll take to get there.
A deck is an extension of your home and in the warmer months may be your most valuable piece of real estate. It doesn't matter if you like reading in the peace and quiet, grilling, or running around because you're a dog or kid, a new deck is the way to go.
Worried about getting a little bit too much sun? Then, how about a covered porch/patio or pergola? Let us know what you're looking for and our carpenters will go to work to install your new living space.

They painted the exterior of our house last month. We were totally pleased with the workers, finished job, time frame. We would definitely hire them for more work on our home.
Connie Tinney
Jeff and Dan gave us an estimate that was very descriptive in what exactly they were going to do. When it came to having the job done Mike and Bryan did an excellent job and they made sure everything was perfect before moving onto the next room. It's really nice to see such hard workers who take the time to do things right in this rush society.
Bill Doll
I have been dealing with Jeff from Braendel's for 3 years now. They painted my historic 1851 home deep in the heart of Allentown, New York. They were the best quote. They did the job clean without us even being bothered of their presence. I had a few small spots 2 years later that were peeling and Jeff had his crew come out and do touchups with no questions asked.

I know that this stuff is expected when you hire someone, but this is not always the case. I give them 2 thumbs up and I am very picky, having been in the customer service industry my whole life. I hope this helps in this emotional decision.
Brando Snyder
Quick work and reasonable
Deb Delaney
The staff and service personnel at Braendel's are the best I have ever experienced. They are very thorough when it comes to the work performed as well as cleaning up afterward.

The prices for the service are very competitive as well.
Robert H.
Start Your Project Today!