Bathroom Remodeling Services in Buffalo, NY
A bathroom remodel can be your ticket to easier mornings, deeper relaxation, and a more efficient way to make use of your space. A bathroom that doesn't fit your needs can cause you to start your day off with unnecessary frustration. If you are tired of your cracked tiles, lack of storage space, cupboard doors that smack into walls, or shower doors that don't seal all the way, Braendel Services in Buffalo, NY can fix all of these issues with efficiency and care. We are a team that can work with you on concerns such as making your space safer, energy-efficient, and adapting it to work better for you and your household.
Bathroom Remodeling Features
Whatever your budget, whatever your dream, call Braendel Buffalo to get the bathroom that's perfect for your family.
Remodeling your bathroom can also raise the overall value of your home and make it more attractive to potential buyers or renters if you are selling or leasing out the space. We are pros at remodeling and redesigning your space for function and aesthetics. No matter who the bathroom remodel will benefit from, Braendel Services Buffalo wants to give every opportunity for your days to get off to a great start!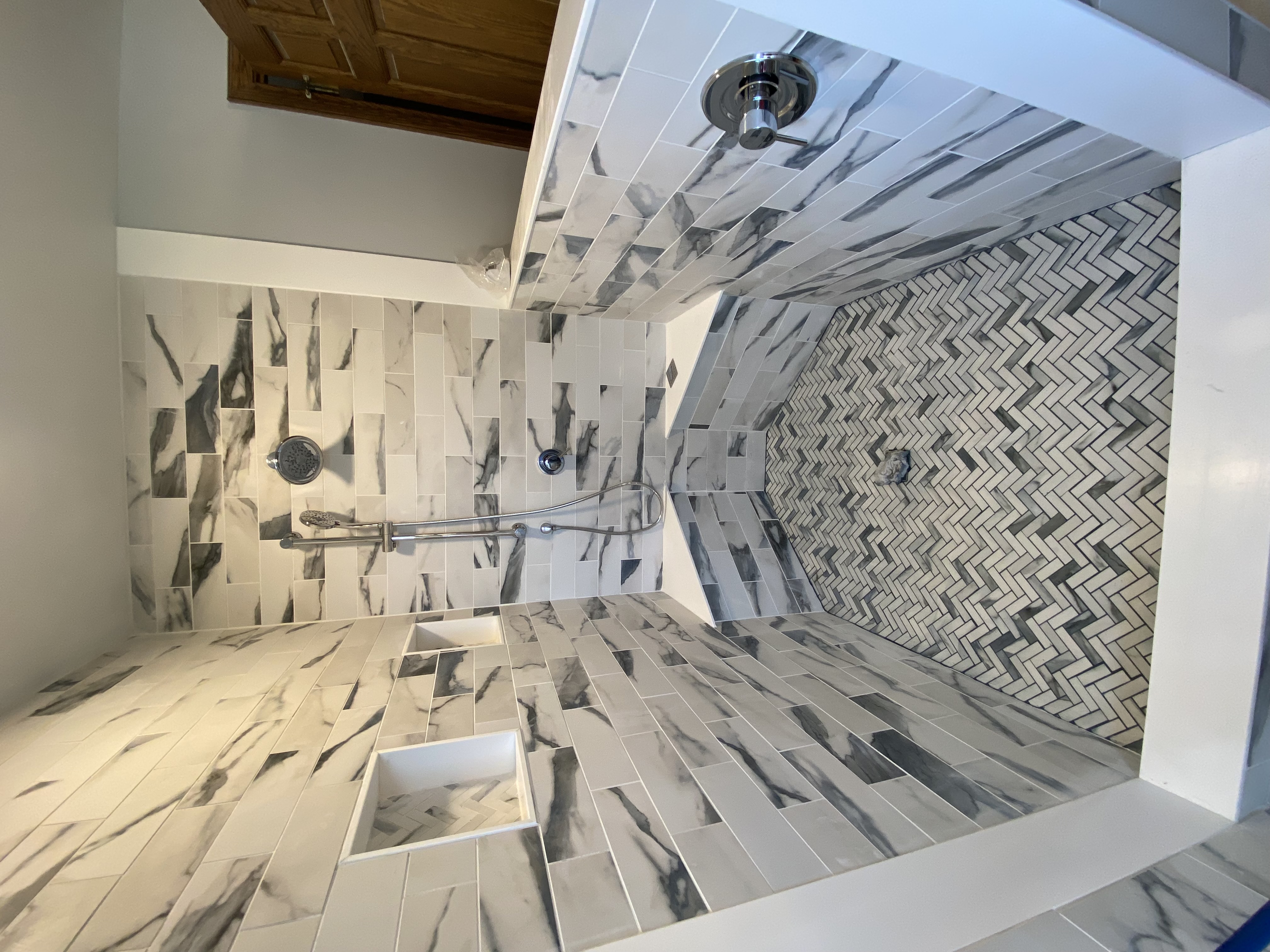 From master bathroom additions to expanding on an existing half bath, we can make the best use of your available space. We have years of experience in remodeling bathrooms and can finish the job fast so you can get back to living your life and enjoying the comfort of your bathroom sooner than later. 
We use high-quality building materials and have a variety of options to work from so you can customize your bathroom as you see fit. Our experienced team can handle functionality concerns such as plumbing, lighting, and layout. We provide installation for faucets, tile, laminate flooring, lighting, shower and tub doors, toilets, vanities, and many more custom items.
Bathroom remodeling is our passion and Braendel Services is the best in bathroom remodeling Buffalo, NY has to offer! Contact us today for more information to get started on your new bathroom!
Frequently Asked Questions
How long does it take to fully remodel a bathroom?
What is the most expensive part of a bathroom renovation project?
Why should I hire professional bathroom remodeling contractors?
Will I need to stay in a hotel while my bathroom is being remodeled?
What should I look for when hiring bathroom remodeling contractors in Buffalo, NY?

To all the staff at Braendel, Mark and I would like to extend a special thank you for your assistance in painting the inside rooms of our new home and with the assistance with tiling the kitchen and tolerating Dutchess, our Great Dane, during their lunch hour. In addition, we would like to express our appreciation for the dedication and professionalism of your company.

Your friendly staff worked very hard on this project and we would like them to know it did not go unnoticed. Our home is beautiful, more than we could have imagined. If you need our assistance for a reference, please do not hesitate to ask. Once again, thank you for helping us make our dreams come true.
Peggy & Mark Grandin
They painted the exterior of our house last month. We were totally pleased with the workers, finished job, time frame. We would definitely hire them for more work on our home.
Connie Tinney
We recently had our great room and entry painted and hardwood flooring installed by Braendel. All the personnel were professional, friendly, and hard working. They were courteous and accommodating of our needs and requests. The workmanship was excellent and the crews did a thorough clean up. We would definitely hire them again and recommend the company to friends and family.
Janet McLain
I could not be happier. They painted the entire exterior and detached garage. These guys transformed my house from an embarrassing eyesore to the best looking house on the block. Got exactly what I wanted. I would not hesitate to hire them again.
Tom Rhea
Had a fantastic experience with Braundel's Painting and Services. Last June I hired some guy to paint my bathroom. He charged me in full but only painted half of it and I got ripped off. Luckily Jeff came to the rescue to see what happened and he was so nice to help me out. He sent Fred over to finish the job. Fred worked really hard and did a fantastic job to make sure he painted the bathroom perfectly. I was totally impressed and very satisfied with their services. This place is reliable and I can count on Jeff make sure I get what I need done here. I am so grateful for everything he has done for me. I would recommend Braundel Painting & Services for painting.
Wendi
Start Your Project Today!