New Flooring Installation in Buffalo, NY
Whether it's a home, restaurant, or apartment, the flooring sets the tone for a space. It's important you take special care in picking the right style of flooring for each room. When you schedule your in-person estimate, a Braendel team member will show you the numerous flooring options we have available like bamboo, cherry, exotic wood, hickory, maple, and oak. 
We can install new tiles, replace tiles & even refinish them when the time comes.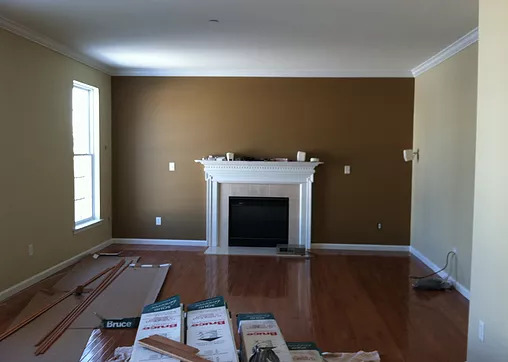 Get New Floors Installed
Each style of flooring comes with its own set of challenges during installation. Luckily, our team has experience installing every style of flooring we work with so you won't have to worry about walking on ill-fitting flooring with visible seams or other imperfections.
If you're considering getting new floors and want to know more about how this interior service can benefit your home and family consider;
New floors offer a significant return on investment
They might even help your home sell by making it look sharp and clean
Fresh flooring can better insulate your home
Floors upgrade the appearance of your space
Replacing the floors might help allergy symptoms

Great experience. Had some exterior work done couldn't be more pleased.
From start to finish everything that was promised was delivered. The price was very reasonable. For any future projects that I need done Braendel will be my first choice.
Irene Connors
Had a fantastic experience with Braundel's Painting and Services. Last June I hired some guy to paint my bathroom. He charged me in full but only painted half of it and I got ripped off. Luckily Jeff came to the rescue to see what happened and he was so nice to help me out. He sent Fred over to finish the job. Fred worked really hard and did a fantastic job to make sure he painted the bathroom perfectly. I was totally impressed and very satisfied with their services. This place is reliable and I can count on Jeff make sure I get what I need done here. I am so grateful for everything he has done for me. I would recommend Braundel Painting & Services for painting.
Wendi
The staff and service personnel at Braendel's are the best I have ever experienced. They are very thorough when it comes to the work performed as well as cleaning up afterward.

The prices for the service are very competitive as well.
Robert H.
We hired Braendel Painting & Services for popcorn removal, ceiling repair / finishing and painting in our new home - We couldn't be happier with the results! Thank you Braendel! We would absolutely call them for future services!
Andrea Cronin
Braendel did an excellent job with our interior painting, installation of recessed ceiling lights and ceiling fan. The whole team was very professional. From start to finish they paid attention to detail. Will definitely contact again for all home improvements.
JT W
Start Your Project Today!